Virtual Commissioning
Control your digital factory by connecting a real PLC with the OPC or PLCSIM interface. Evaluate the behavior of your system during the virtual commissioning of the digital model through interaction with real automation components.
Test your PLC code on the digital model and develop higher-quality control software:
Model in the loop
Software in the loop
Hardware in the loop
The advantages of virtual commissioning are obvious:
Shorten the development phase with reduced development costs by resource optimization.
Develop higher-quality PLC code due to parallel unit tests and high code coverage through long-term testing.
Train your employees on the virtual model and go through possible error scenarios before the physical system is put into operation.
Speed up the commissioning of the real system due to preliminary tested and validatet PLC code.
Improve and optimize your control processes independently of the location and without any impacts on the ongoing production (material consumption, wear, risks due to damage).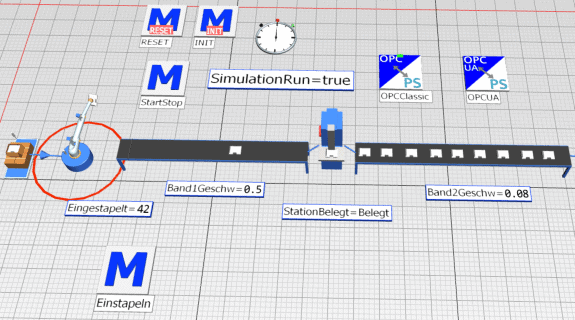 OPC DA & UA
The OPC classic or OPC DA (Data Access) interface object enables the communication between Plant Simulation models and control and automation systems. The interface object functions as an OPC client and allows the model to read control variables and signals from the PLC control (Programmable Logic Controllers) as well as to provide data for other applications by writing to the OPC server. The connection of simulation models to PLCs is now also supported via the extended OPC UA (Unified Architecture) interface. This server/client conmmunication is offered and developed by the OPC Foundation. In contrast to classic OPC, the OPC UA standard is independent of the Microsoft COM/DCOM protocol and allows you to connect:
Siemens PLCs (S7-1200, S7-1500, …)
Any other PLC manufacturer with OPC UA support
MES and shop-floor software with an OPC UA interface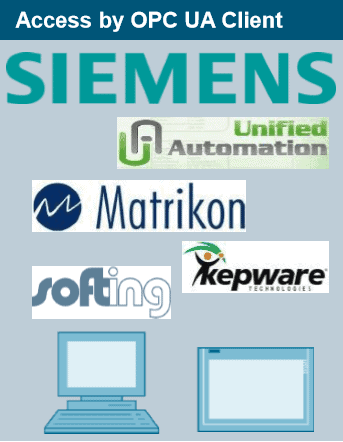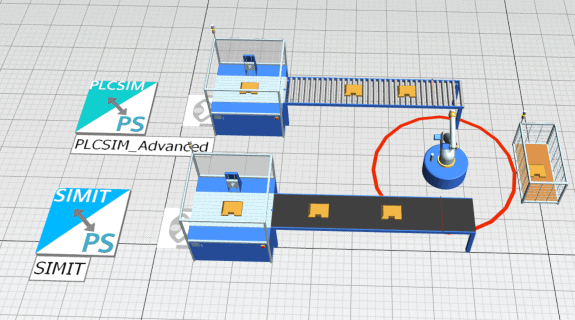 PLCSIM Advanced & SIMIT
The PLCSIM Advanced Interface object offers another attractive solution for virtual commissioning via shared memory and connects Plant Simulation models with a virtual PLC (PLCSIM).
In addition, it is possible to couple your model with the automation technology simulation environment SIMIT via the provided interface module in Plant Simulation.